Announcement
Announcing the 14th Drawing Competition 2019
in 2019 there will once again be a drawing competition during the BMW BERLIN MARATHON with the theme "Running is fun and roller-skating is fun - together is even more fun"
The BMW BERLIN MARATHON and SCC EVENTS are announcing the 14th drawing competition for children ages 4 to 14."Running is fun and skating is fun - together is even more fun". Draw or paint pictures of running or roller-skating events that you have taken part in. Draw yourself, your friends, mom, dad, grandma, grandpa, aunt, uncle, or a whole bunch of people running or roller-skating together. Older kids can also build a collage and put together photographs, words and newspaper clippings to bring their ideas to life.
All drawings will be exhibited during the marathon trade fair. After the marathon-week the pictures from the winners can be found at this link.
You can win good prizes!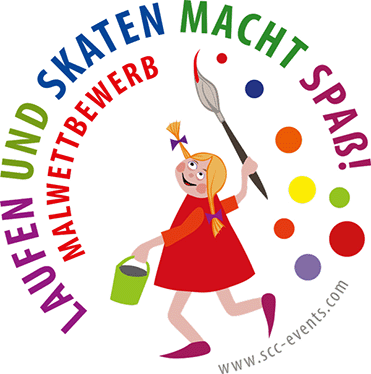 For the Adults
Children aged 4 to 14 can participate in the competition.
The size of the pictures should not be smaller than A5 and not larger than A3. Please only send one picture for each child and only the original. For each school or group a maximum of 20 drawings will be eligible for the contest.
According to design rights we only classify pictures which clearly are drawn by children.
The application has to be completed by using the online form.
Have fun watching the work of art develop!
Closing date: 31. July 2019
Address for submissions